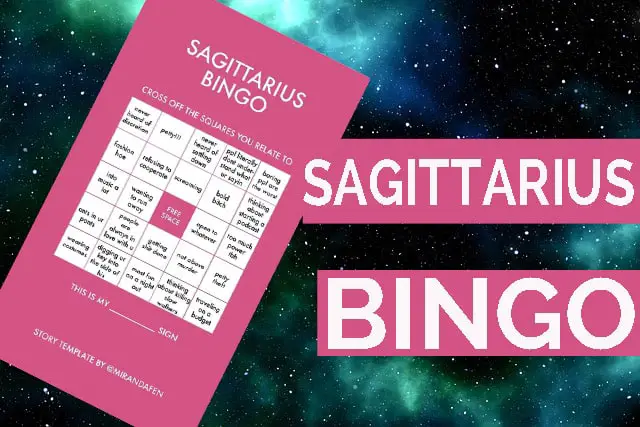 Let's play a game of bingo! If you're a Sagittarius you may already know some of your characteristics, but how do they reflect on your daily life? Did you ever try to find out how much you "fit in" to the archer sign? Not that you have to, but it may be fun to try it just for once.
Step 1: Get The Card
You can find a free example if you scroll down a little. Another possibility would be to search the internet and find one that you like better. This one in particular belongs to the Miranda Feneberger collection, one of the top picks if you're new to this kind of bingo. Visit her instagram if you feel like it: @mirandafen and @mirandasmemecult.
Step 2: Read The Rules
We already illustrated a quick manual on the Aries card so just head on over there for a minute and everything will be clear. Here's a link that gets you there to make it even easier. A new screen will pop up that you can close in order to return to this one.
Step 3: Begin Your Adventure
Make sure to be honest. We found that many people cross off a whole lot of boxes even though they correlate partially to them. What you could do to avoid this is to go with a 50-50 rule. Tick one that's a "little" how you feel and when the same thing happens you skip it. Another idea would be to draw half the X so you will have a clue what percentage should receive a question mark. Anyways, just get started!
Step 4: Calculate Your Score
How well did you do on the Sagittarius Bingo? Go and find out and compare it with your friends. Or maybe you already tried it in the past so you can make that comparison. Having a high or low score doesn't make you more or less of a Sagittarius! Astrology and horoscopes are a personal thing and so the results aren't set to stone. Feel free to grab some of the other cards from our menu if you enjoyed it!