The question is: Are you ready for your horrorscope? Depending on the reason you came to our site this may be exactly what you've been looking for. Maybe you're here for entertainment purposes or maybe you're curious about the dark and thrilling side of your sign. Whatever it may be we're here to help you out big time!
Introduction
Let's be honest, we ourselves love astrology and we spend a good amount of time on this topic. However we absolutely get it whenever people express their doubts or even disbelief. Starting our own website has helped a lot of our readers to grab the information they need, especially since we focus on keeping it simple. However we also received some negative comments which was a new experience for us. In stead of ignoring them we always do our best to respond which has luckily been appreciated dozens of times. In order to show our understanding and awareness of the "pseudoscience tag" we decided to embrace our skeptics and add some content in their favour as well.
And So It Began
A new challenge for us was to come up with both horror media and fantasy thrilling content. One of our friends who also came up with the zodiac memes was the perfect fit. Not only because of his doubtful opinion towards this topic but also his motivation to help us out. So we asked him to do all the necessary research whilst we taught him the traits of the signs in actual astrology. The result is this "brand new" horrorscope section which in our opinion should serve a lot of people that are interested. We had some good laughs to tell you the truth. Anyways, from now on our friend will manage this page for us so feel free to come back whenever you wish.
Your Horrorscope
Maybe you're already familiar with the dates associated with Zodiac signs. If not don't worry, we added them to each one for your convenience. For anyone wondering, yes we based them on Western Astrology. We know there's some of you who prefer the sidereal approach, but we had to make a decision in order to keep this as simple as possible (read more in our Ophiuchus article). Make sure to come back whenever you feel like it or tag a friend in case you know his or her date of birth.
Aries (20/03 – 20/04)
"Practice your innocent look this week."
Taurus (20/04 – 21/05)
"Clean your kitchen and don't kill that bug in your sink."
Gemini (21/05 – 21/06)
"Avoid the Dinosaur topic this week."
Cancer (21/06 – 23/07)
"Bad hair day record."
Leo (23/07 – 23/08)
"Is your date really who he/she claims to be?"
Virgo (23/08 – 23/09)
"Traffic jams and something with silence."
Libra (23/09 – 23/10)
"Scary costumes and noises."
Scorpio (23/10 – 22/11)
"Remember how to spell."
Sagittarius (22/11 – 22/12)
"Remember where you came from."
Capricorn (22/12 – 20/01)
"Was that a ghost?"
Aquarius (20/01 – 18/02)
"Conspiracy theory reveal."
Pisces (18/02 – 20/03)
"Doubt the magician."
Horrorscope Pictures
To whom it may concern we added a few images for you to share. Maybe you like to "horror on" a little bit and bring the spookiness to other people. Always fun to spread the word or be a little controversial right? Whatever the reason we hope this helps you out. We had a great time creating them and we're very curious about how popular they might become in the future.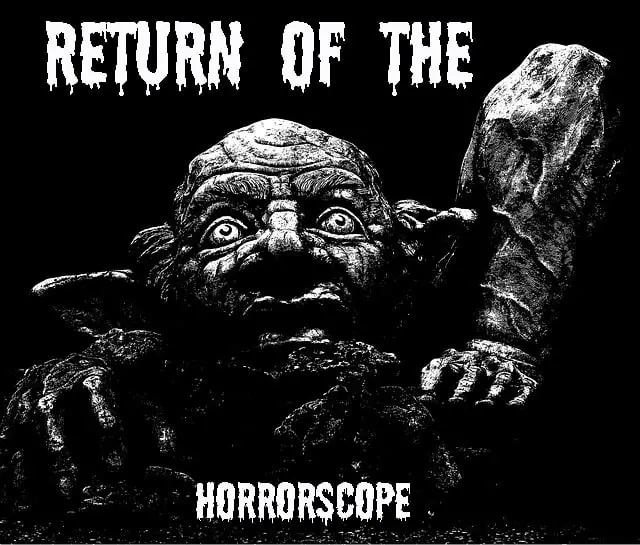 So Now What?
We guess there's not a whole lot to add to this topic besides sharing a few thoughts. Let's say that somehow you now start to become a little interested in air signs and what they're all about. We get it, maybe you have no interest whatsoever and that's perfectly fine. However if you do in even the slightest way, feel free to check out our easy to understand "beginner" overviews. Maybe your colleagues drive you nuts whenever they talk about how things are written in the stars. We guess they'd be very surprised if you joined the conversation because you actually know some of the basics. Here are the links to make this easy: Aries, Taurus, Gemini, Cancer, Leo, Virgo, Libra, Scorpio, Sagittarius, Capricorn, Aquarius and Pisces.
Still Here?
Can't get enough of horrorscopes? One thing we did is a little research on merchandise regarding this scene. Mostly books and some other stuff, pretty cool how some authors actually spent a good amount of time on this. Who knows a hilarious present for one of your buddy's. Below there's an image of what to expect but make sure to not get scared!
Any Suggestions?
We always love to hear from our readers. Maybe one of you has his or her idea for this page or some amusing suggestions. We don't read comments every day but we go through them regularly. Like we mentioned before this is not our primary focus of content. We usually write for astrology and numerology lovers but we respect everyone that visits our website. If horrorscopes is your thing we are glad you are here and we will therefore add more info once appropriate.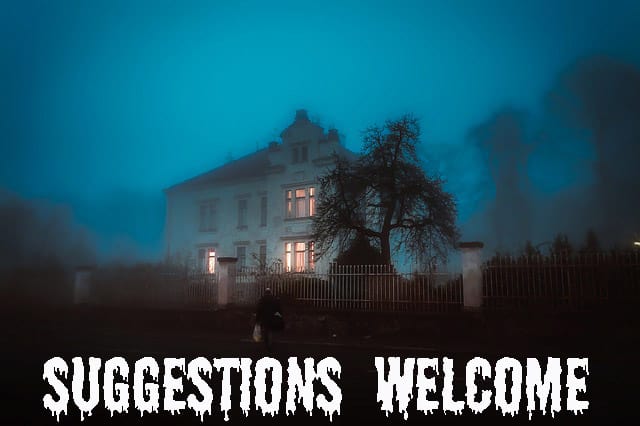 Conclusion
There's not that much to conclude but let's say this. We really hope you had a good time reading our story. There aren't many resources for the horror side of constellations but we gave it our very best. In case a little curiosity towards air signs started to come to your mind please browse through our menu. It's all explained very basic but informative so you'll be up to date in a matter of minutes. Another site you've probably heard of is Wikipedia, a good source to master almost any subject.
Disclaimer
If astronomy is a science and astrology a pseudoscience, what does that mean towards horrorscopes? Well, probably that it's just pure entertainment. At least the ones on here are everything but evidence based. In other words it's best to not pay any attention to them and forget the whole thing. In case anything happens in conjunction with the above it's all just a coincidence. We added them for your amusement only.